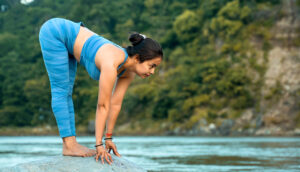 The Panch Kosha came about from my dedication to yoga. The idea was born after I had quit a well-paying job in the corporate sector after working for ten years. I decided to leave after realizing that the job was beginning to take a toll on my physical and mental health. Yoga was not new to me, as I had practiced it since childhood though on and off. My decision was a turnaround moment and the perfect time to use my long-lost passion to create a platform that encourages and empowers others.
I am a certified Yoga instructor (RYT 500), a certified Pre/post-natal yoga instructor, also an Aerial Yoga instructor from Yoga Alliance, USA. I also have certification in Reiki healing, crystal, and Sound Healing (levels 1,2 & 3). I am a tarot card reader as well. My learning journey does not stop here, as I always consider myself a student.
I like to think of yoga as a lifestyle. For me, it goes beyond the stretches or fitness but a journey inward and connecting with your inner- self. My main goal is to promote personal growth and a healthy lifestyle.
The Panch kosha is an online yoga service that offers sessions themed around different aspects of yoga. I specifically design each session to fit the client's mental and physical requirements. The engaging and playful sessions teach various asanas, the idea behind them, alignment, and posture as you connect with your true self.
My main aim through the Panch kosha platform is to help people connect with their inner child, their authentic selves, and, most importantly, find inner peace. The name derives from the Sanskrit term Pancha(five) and Kosha (sheath). Panchakosha is mentioned in Vedic ancient texts as a connection to the universe and the inward journey through the five yogic koshas:
Annamayya kosha (physical body) – It is translated as the sheath that contains food and sustains the other koshas.
Pranamaya kosha (energy body)- the layer is believed to contain life force energy and is related to the aura.
Manomaya kosha (mental body) – It represents the function and power of the mind. It is responsible for how we process emotions and thoughts.
Vijnamaya kosha (wisdom body)- The layer believed to represent our consciousness, intellect, and wisdom. It is responsible for inner growth and personal development.
Anandmaya kosha (bliss body)- The innermost layer which is responsible for unconditional love, inner peace, and joy.